Operations Manager
New York, NY / Full-time
Help run operations for a mission-driven tech startup that works with community health centers across the country.
At Relevant, we're building great software for community health centers and other organizations that work with low-income and underserved patients. We currently have nine employees, and are excited to be hiring an Operations Manager to help us scale effectively.
This position is ideal for someone who wants to be at the center of day-to-day business operations for a startup. You'll be involved in just about every detail of the company's life, from payroll to contracts to customer support to recruiting to product development. We're looking for someone who wants to shape our company and culture for the next several years, taking on increasing levels of responsibility over time.
Main responsibilities
Manage the office. You'll own everything related to making Relevant a happy, well-oiled machine. For example: help lead our move to Brooklyn, researching commercial real estate options, scoping out spaces, and organizing move logistics. Plan company events and team retreats. Handle day-to-day organizational tasks, from opening the mail to ordering snacks to figuring out what USB-C hub we should standardize on.

Keep us organized. As we grow, we need more checklists, more systems, tighter organization—both for internal and customer-facing processes. What are all the things that need to happen when we go to a trade show? When a new consultant starts working for us? Help us nail these things down, document them, and make them happen efficiently.

Run finance. Own the customer invoicing process, which involves mastering our accounting software, time-tracking software, and the fine print in our contracts. Pay bills, deposit checks, and liaise with our external bookkeeper. Figure out how much we're paying for big-ticket items, like cloud hosting, and whether we're spending that money wisely.

Help customers. Answer customer questions and support tickets for our two software platforms. This means learning all about the worlds of care management, community health centers, and healthcare analytics. Help us build a good support workflow so that customers continue to get quick answers to their questions as we grow.

Support HR. Working with the Director of HR (currently one of the co-founders, who puts on a special hat when doing HR tasks), you'll help us welcome new employees and get them oriented. You might also help screen candidates, draft an employee handbook, or research 401(k) investment platforms so we choose one which doesn't rip us off with excessive fees.
Preferred qualifications
Above all, we're looking for general smarts, emotional intelligence, and excellent communication skills. We're fun and easy to collaborate with, and hope you are too! Past experience in an administrative, office manager, or operations role is a plus, but not required. Here are some specific qualities we're looking for, to help see if we're a good fit:
Tech savvy. You're the type of person who enjoys learning new pieces of software. You get excited about finding ways to accomplish a task with fewer clicks. Maybe you're a spreadsheet wizard; if not, you'd like to become one, with help from colleagues and Googling around to solve problems.

Love for organization and systems. You have an inherent love (maybe bordering on obsession) for organization. You'd be excited to build and improve all sorts of systems at Relevant, from keeping track of myriad regulatory deadlines, to tinkering with Expensify until it works more seamlessly with our accounting software, to tracking our sales leads.

Strong project management skills. You're able to bring clarity and organization to a new project from start to finish. You can learn a lot on your own, find ways of cutting through obstacles, and have good instincts about when to consult with others.

Superior writing ability. We're looking for someone who can write polished, friendly, professional emails to customers and other collaborators. Ideally you're a person who loves language and takes pride in writing well.

Excellent research skills. You're good at getting to the bottom of things. "Things" might include how to pay New York State sales tax (cash or accrual basis?), how a particular clinical quality measure is defined, how Google Groups permissions can be tweaked… the list is endless, and we hope that variety is appealing to you.

A desire to make healthcare better, with a focus on equity and social justice. We're not the kind of startup chasing hyper-growth. We're building tools used by safety-net organizations that are fighting health disparities, and are looking for candidates who find this focus compelling.

Be nice. As a company, we think feelings matter a lot. We're looking for people who understand this, who are easy to work with, and whom other people always want on their team.
Working at Relevant
Join a small team of people (currently, there's just under 20 of us) who love what we do and continually strive to delight our customers.

Help us build a company culture that's friendly, respectful, and encourages continual learning.

Competitive salary, excellent benefits (we pay 100% of employee healthcare premiums), 401(k) with employer contribution, generous vacation policy, and a general emphasis on happiness and sanity.
Our office space in downtown Manhattan is provided by WeWork, which means we get all sorts of nice amenities, including social spaces with couches, lots of natural light, and free coffee and beer. Here's what it looks like: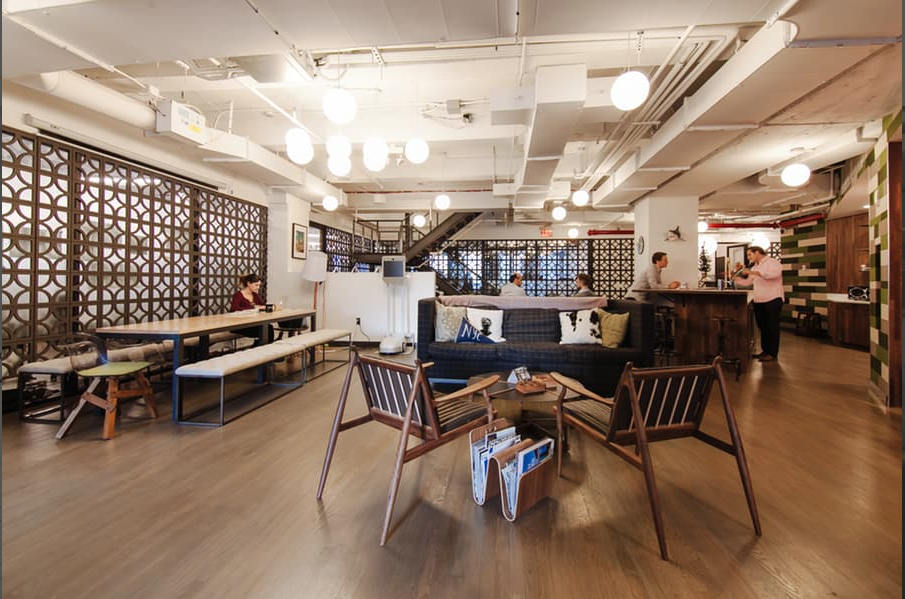 How to Apply
Send an email to [email protected] with the subject line "Operations Manager." When responding, include a resume and a note in the body of the email explaining your interest in the position. Please also include the phrase "purple groundhog antidote" somewhere in your note, so that we know you read this.
We're committed to building a diverse company. Applicants who identify with groups that are under-represented in the technology industry are strongly encouraged to apply.