Account Executive (first sales hire)
New York, NY / Full-time
Help bring world-class software, focused on improving patient outcomes, to America's healthcare safety net.
Relevant's mission is to support community health centers as they work to improve outcomes for their largely low-income and underserved patients. We do this by providing smart, friendly analytics software, along with hands-on support and consulting to help health centers tackle all kinds of data challenges.
Before launching Relevant in 2015, our founding team spent more than a decade working in health centers, and we've turned that experience into a compelling platform for data, reporting, and population health. We're bootstrapped, profitable, and growing. In three years, we've supported countless data initiatives, generated lots of excitement, and seen some notable successes.
As our first sales hire, you'd be responsible for guiding potential customers through the full sales cycle. You'd also be helping to hone our sales methodology, build the team, and shape our product development, with the opportunity to take on increasing responsibilities over time.
Main responsibilities
Run an effective, collaborative sales cycle. Working with our co-founders, you'll own the entire sales process, from lead generation to product demos, developing strong relationships with stakeholders, negotiating contracts, and closing deals.

Develop product and domain expertise. Become an expert on our product and how it's used at health centers. This means learning all about health center operations: clinical quality improvement, informatics, data and reporting needs, finance, front-office workflows, and more.

Generate leads. Develop and pursue a variety of lead generation strategies, from representing Relevant at trade shows, researching prospective customers, cultivating a personal network, and sending cold emails.

Create sales and marketing collateral. Improve the materials we use during the sales process, and develop new items: brochures, testimonials, case studies, ROI analysis, maybe a cute snail-mail package introducing our company to promising leads?

Build market awareness. Research where our offerings fit in the competitive landscape: among EHRs that offer built-in population health functionality, and also among other analytics, pophealth, and BI offerings. Understand the broad market dynamics shaping the delivery of primary care, e.g. the increasing importance of value-based contracts.

Help shape our platform's development. You'll be constantly learning about the needs of prospective customers. Bring this knowledge back to our product team to help inform ongoing development of our platform.
Preferred qualifications
2+ years sales experience. Since this is our first sales hire, we're interested in someone who's done this before. Ideally, you've had experience selling software with a contract value of $50K/year or more into healthcare organizations.

Ability to connect with potential customers. Our goal is to have real conversations with customers about the problems they're trying to solve. You've got the skills–empathy, active listening, intelligence—to lead discussions with a variety of health center stakeholders, leaving them with the conviction that Relevant "gets it."

Killer instinct (in the nicest possible way). You can be friendly but persistent. You're ethical, trustworthy, and you like to win.

Tech savvy. You get excited about finding ways to accomplish a task with fewer clicks. You're interested in learning all about how our analytics platform works under the hood, and will be comfortable explaining the technical bits to IT folks on the other end of the call.

Excellent writing ability. We're looking for someone who can write polished, friendly, professional emails to potential customers, as well as develop high-quality sales and marketing collateral. Ideally, you're a person who loves language and takes pride in writing well.

A desire to make healthcare better, with a focus on equity and social justice. We're not the kind of startup chasing growth for growth's sake. We're building tools used by safety-net organizations that are fighting health disparities, and are looking for candidates who find this focus compelling.

Be nice. As a company, we think feelings matter a lot. We're looking for people who understand this, who are easy to work with, and whom other people always want on their team.
Working at Relevant
Join a small team of people (currently, there's just under 20 of us) who love what we do and continually strive to delight our customers.

Help us build a company culture that's friendly, respectful, and encourages continual learning.

Competitive salary, excellent benefits (we pay 100% of employee healthcare premiums), 401(k) with employer contribution, generous vacation policy, and a general emphasis on happiness and sanity.
Our office space in downtown Manhattan is provided by WeWork, which means we get all sorts of nice amenities, including social spaces with couches, lots of natural light, and free coffee and beer. Here's what it looks like: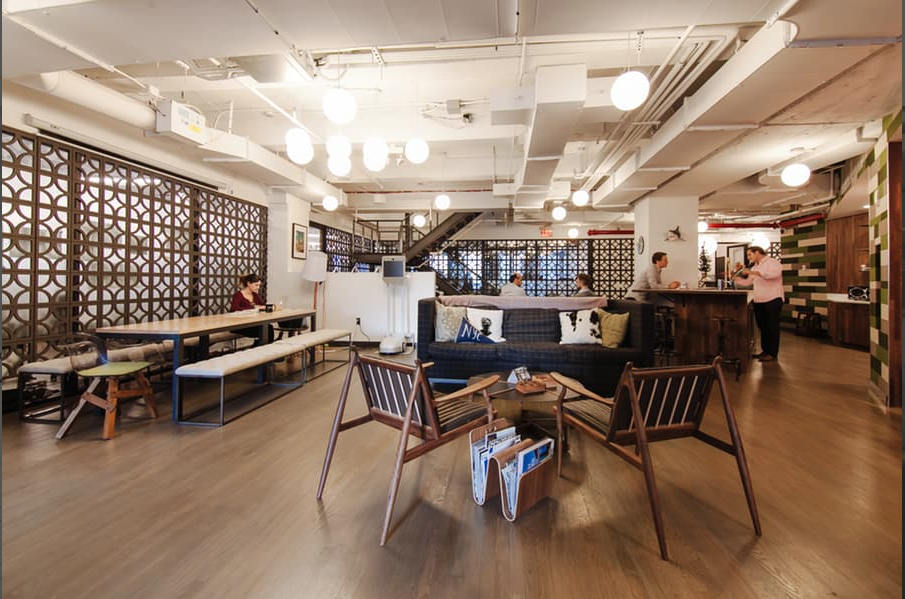 How to Apply
Send an email to [email protected] with the subject line "Sales Account Executive." When responding, attach a resume (PDF preferred) and include a note in the body of the email explaining your interest in the position. Please also include the phrase "zinc atrium proof" somewhere in your note, so that we know you read this.
We're committed to building a diverse company. Applicants who identify with groups that are under-represented in the technology industry are strongly encouraged to apply.