Product Manager
New York, NY / Full-time
Collaborate with our team to drive product development, delivering value to community health organizations across the country.
Relevant's mission is to support healthcare non-profits like community health centers and health homes in their drive to improve patient health. We do this by providing smart, friendly analytics software, along with hands-on support and consulting to help health centers tackle all kinds of data challenges.
We're hiring a product manager to help us build on early successes and scale effectively. If you have a track record of successful product management, are excited about our mission of improving health outcomes for underserved patients, and are passionate about building great software, we'd love to talk to you.
There are a lot of ways to be an excellent product manager; we know the job varies across organizations. Below are the responsibilities we'd expect our PM to own, key relationships we'd expect our PM to form, and qualifications we think a PM would need to be most effective on our team.
Responsibilities
Product mastery: be the expert on our product and how it's used. Know what it's capable of, how to get the most out of it, and the ways it falls apart. Share this knowledge both internally and externally, through deliverables like info sessions, feature announcements, and blog posts.

Market awareness: see the big picture. Learn about the worlds of healthcare data analysis, quality improvement, and care coordination in which our products are used, as well as the competitive landscape in which we operate. Apply this awareness to focus our product development and inform our sales and marketing strategies.

Roadmap development: manage our product roadmap. Balance input from internal and external stakeholders against your own expertise and intuition to prioritize the highest value features to build. Find ways to share the roadmap effectively, both internally with our team and externally with customers.

Feature requirements: distill the knowledge and context you've gained into clear feature requirements. Focus on iteratively and measurably improving the product, balancing the value of new features against the cost of both UX and technical debt.
Partnerships
Leadership: Relevant's co-founders have deep experience in the field of healthcare analytics. Work closely with them to keep our offerings aligned with their vision, even as their day-to-day responsibilities pull them further away from product development.

Services: doing our job well means delivering not only valuable features to our customers, but also excellent service. Partner with the services team to ensure that our customers are suitably informed of and engaged in the product development process.

Users: learn how our users actually use our product, what goes well for them, and what pain points they have. When we're curious about adoption rates and usage patterns, have the quantitative skills to learn about users' behavior, and the empathy to appreciate what they need.

Engineers: partner closely with the engineering team to execute on the roadmap. Build strong working relationships with our engineers, help drive our agile development process, and keep the team on track to deliver value.
Preferred qualifications
2+ years product management experience: we're interested in someone who's done this before. Ideally, you've been a part of at least one highly effective product team and can help bring best practices to our product development process.

Strong project management skills: we're looking for someone who loves to keep projects organized, especially when there are many moving parts. You should have experience developing realistic timelines and finding creative ways to meet them.

Excellent research skills: there's an ever-changing set of policy guidelines we need to meet and external systems our products need to talk to. You should be comfortable sleuthing around the internet, making sense of technical and policy documentation, and generally getting to the bottom of such issues.

A desire to make healthcare better, with a focus on equity and social justice. We're not the kind of startup chasing hyper-growth. We're building tools used by safety-net organizations that are fighting health disparities, and are looking for candidates who find this focus compelling.

Thrive in collaboration: we're a tight-knit team of people who care deeply about our users and each other. We're looking for a PM who will thrive in this collaborative environment and contribute to our continued, collective growth.
Working at Relevant
Join a small team of people (currently, there are 16 of us) who love what we do and continually strive to delight our customers.

Help us build a company culture that's friendly, respectful, and encourages continual learning.

Competitive salary, excellent benefits (we pay 100% of employee healthcare premiums), 401(k) with employer contribution, generous vacation policy, and a general emphasis on happiness and sanity.
When we're not experiencing a pandemic, our office space in downtown Manhattan is provided by WeWork, with the attendant nice amenities: social spaces, lots of natural light, reasonably good coffee and espresso. Here's the common area: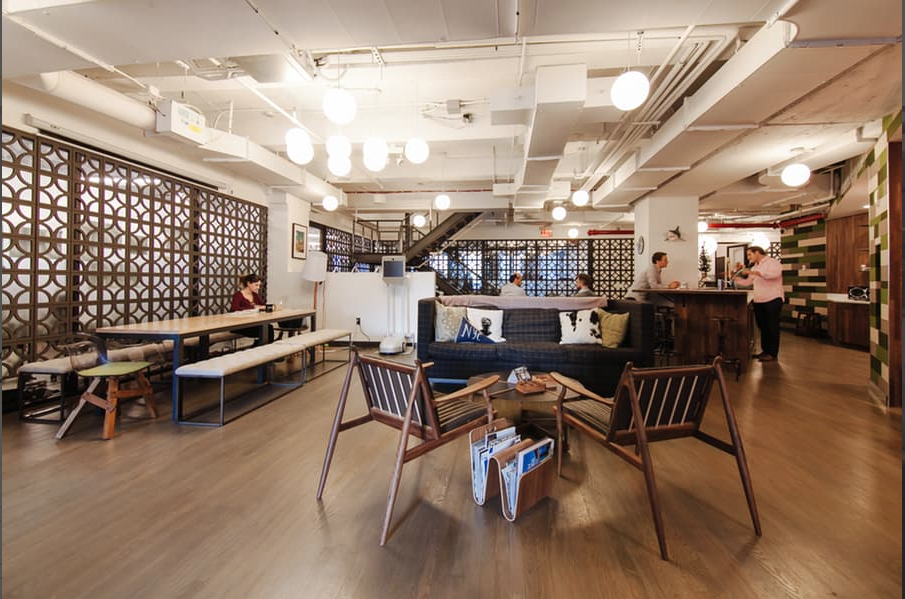 How to Apply
Send an email to [email protected] with the subject line "Product Manager." When responding, include a resume and a note in the body of the email explaining your interest in the position. Please also include the phrase "quiet mango ally" in your note, so that we know you read this.
We're committed to building a diverse company. Applicants who identify with groups that are under-represented in the technology industry are strongly encouraged to apply.