We're thrilled to announce that Petaluma Health Center, an early adopter of Relevant's analytics platform, has won a 2017 Davies Award for community health! In fact, we're so excited about this, it's inspired us to finally set up a blog. :)
The Davies Awards, administered by HIMSS, recognize organizations that have made exceptionally good use of technology to improve patient outcomes. PHC was one of just three health centers nationally to win the award for 2017.
Over the past two years, we've watched the team at Petaluma implement our analytics platform as part of a truly impressive population health strategy. When Brandon and I launched Relevant in 2015, we hoped it could make a real, measurable difference in the lives of patients and care teams. To see this happening at Petaluma has been incredibly gratifying—it's the dream.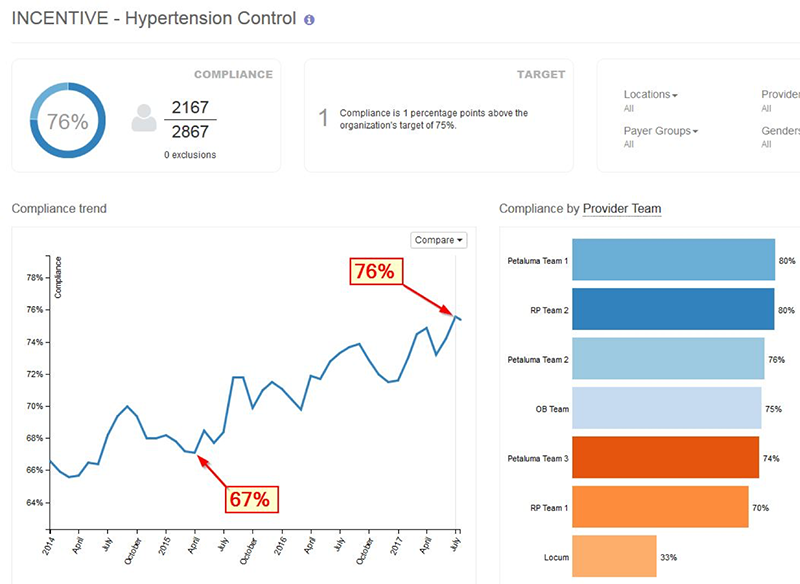 To dig into the details, you can read and watch Petaluma's HIMSS presentation materials here. You'll see how PHC is monitoring population-level health and stratifying patients by risk; how they're embedding standards of care directly into the EHR, with order sets and templates; and how important it is to set aside structured time for providers to do the work of population health.
"Forty-five minutes a month," said Dr. Danielle Oryn, Petaluma's chief medical informatics officer. "We'd skip this for a given month, and we'd see a dip in the numbers."
From our first meetings with Dr. Oryn and the team at Petaluma, it was obvious that they're running an exceptional health center—smart, effective, mission-driven, and savvy about the possibilities of data and technology to improve primary care. Congratulations to Danielle, Shaun, Erick, Kathie, Nurit, and all of the staff at PHC. Well done!