Director of Client Services, Health Homes
New York, NY / Full-time
About Relevant
Relevant builds tools to support the work of community health providers. Our analytics platform is used by dozens of community health centers around the country, including several which have recently won awards for innovative use of technology. Our care management platform is the leading software solution within New York State's Medicaid Health Homes program.
About Health Homes
Health Homes is a major initiative to intervene with high-risk Medicaid patients. The program was launched in 2010, as part of the Affordable Care Act, and spends approximately $500 million per year in New York State.
Health Home patients may have multiple chronic conditions, substance use challenges, or serious mental illness; they might be homeless or incarcerated. The goal is to improve health outcomes while also reducing total system costs, with a special focus on preventing unnecessary hospitalizations.
Dozens of organizations, from hospitals like Mount Sinai to community-based organizations like Housing Works and The Alliance, use our care management platform to collaborate on patient care and track progress for Health Home patients.
The role
We're looking for a Director of Client Services to manage our relationship with key Health Home customers; provide day-to-day leadership and management of our services team; and help shape the direction of our product and service offerings as we grow.
Main responsibilities
Deliver for our Health Homes. You'll have broad responsibility for managing relationships with our Health Home customers, handling several accounts directly and providing oversight for others. Run regular meetings with the Health Homes' leadership teams and find creative ways to solve their problems. Earn their trust as someone who gets it, and gets stuff done.

Manage the services team. Cultivate a fun, motivated, effective services team. Your brief includes managing the work of those in charge of user support, training, data/reporting, and billing/claims. Pitch in where appropriate; develop appropriate metrics to ensure quality; make sure everyone has the support they need; and help us build out the team.

Improve our communications strategy. Deliver effective communications for our Health Home product and services. This includes drafting slide decks, email updates, and blog posts; as well as planning and running webinars, leading roundtable meetings with all of our customers, and delivering on-site presentations (pandemic permitting).

Become a Health Homes program expert. We'll look to you to understand Health Homes from many perspectives: from the care manager and the client on the ground; to the Health Home's staff; to the policy and guidance promulgated by NYSDOH; to the technical quirks of the NYSDOH systems we interact with.

Help improve our platform. You'll know just about everything there is to know about our software: how it works, how it's being used, what it does well, what needs improvement. Working with our product and engineering teams, advocate for changes that will make the biggest impact.
Preferred experience
7+ years relevant work experience. Strong applicants may come from a variety of backgrounds, including care management, health care administration, or program implementation, as well as customer success, operations, or strategy roles at a modern B2B technology company.

2+ years management experience. You've led at least one team and developed core people management skills. You appreciate how hard good management is, have read some books about it, and reflected on your experience.
What we're looking for
Effective stakeholder management. You've demonstrated the ability to manage complex projects involving multiple stakeholders. Your style is friendly and collaborative, but you also know how to push for answers and escalate when necessary. You're a good listener. You can run meetings convincingly.

Ability to get stuff done. You like finding ways to solve tricky problems. You're good at navigating around obstacles, pulling in support from others as needed, and keeping stakeholders updated along the way.

Superior writing skills. You habitually rewrite things to make them better… then you take just one more editing pass. You'd be ready to produce polished, client-facing documents and edit the work of others as needed.

Tech savvy. You know a lot about Excel (e.g. Pivot Tables), and can pick up new software skills quickly. The opportunity to work alongside software engineers is interesting to you. We don't expect you to know SQL, but you'd welcome the opportunity to learn.

A desire to improve health outcomes, with a focus on equity and social justice. We're building tools used by safety-net organizations that are fighting health disparities, and are looking for candidates who find this focus compelling.

Be nice, and value collaboration. We think feelings matter a lot. We're looking for people who are easy to work with and whom others always want on their team.
Compensation
The base salary range for this position is $100-130K/year. This is negotiable and depending on experience. Significant equity in the form of options, company 401(k) contribution, and other benefits are in addition.
Working at Relevant
Join a small team of people (currently, there are 16 of us) who love what we do and continually strive to delight our customers.

Help us build a company culture that's friendly, respectful, and encourages continual learning.

Competitive salary, excellent benefits (we pay 100% of employee healthcare premiums), 401(k) with employer contribution, generous vacation policy, and a general emphasis on happiness and sanity.
When we're not experiencing a pandemic, our office space in downtown Manhattan is provided by WeWork, with the attendant nice amenities: social spaces, lots of natural light, reasonably good coffee and espresso. Here's the common area: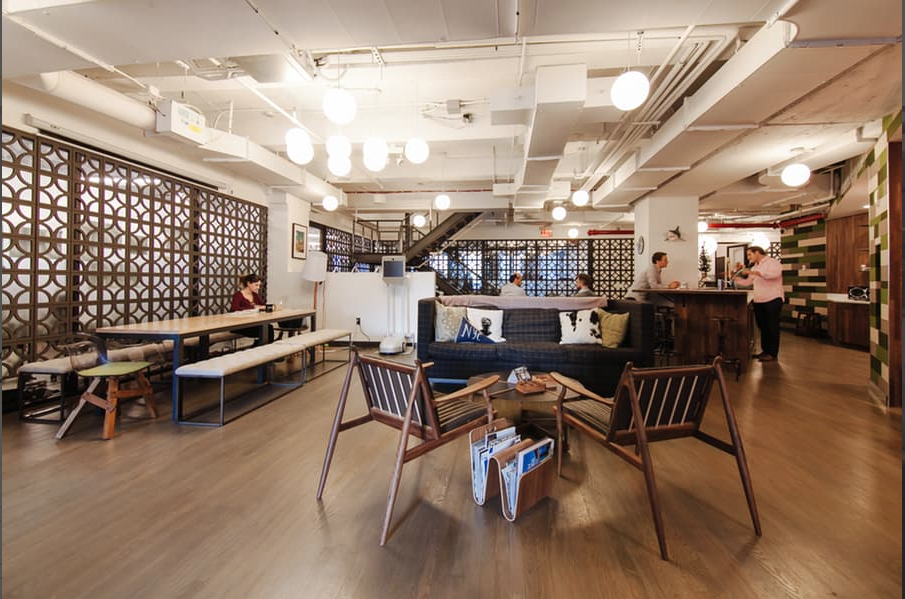 How to Apply
Send an email to [email protected] with the subject line "Director of Client Services, Health Homes." When responding, include a resume in PDF format and a note in the body of your email explaining your interest in the position. Please include the phrase "walnuts upon zebras" somewhere in your note.
Relevant is an equal opportunity employer. Applicants who identify with groups that are under-represented in the technology industry are strongly encouraged to apply.