Program Manager, Health Homes Billing
New York, NY / Full-time
Seniority level: mid
We're looking for a detail-oriented generalist to run a set of key business processes for our Health Home customers.
If working alongside a fun, talented product and engineering team to improve patient outcomes sounds interesting, we'd love to hear from you.
And please note: this position is not as specialized as a typical medical billing job; experience "scrubbing claims" might be useful, but is certainly not required. If you love spreadsheets, read on.
Relevant provides smart, friendly software for organizations within New York State's Medicaid Health Homes program. Health Homes is a big care management experiment—upwards of $500 million per year—with the goals of improving patient outcomes while reducing the total cost of care.
For our Health Home and Care Management Agency partners, our software platform is a key part of the technical infrastructure that makes it work. We have a strong reputation in the Health Homes world, and anticipate significant growth in the next 12 months.
Main Responsibilities
Oversee Health Home billing operations. You'll be responsible for managing monthly claim submissions. Submit claim batches, process remittances, and generate billing statements. Develop ways to monitor each step of this process, tracking key metrics such as A/R and payment percentage, and home in on the details to figure out which claims aren't getting paid and why.

Become our subject matter expert. Learn everything there is to know about Health Homes billing requirements: read and make sense of guidance documents from NYSDOH; understand how each subprogram works; and attend state-wide calls, working groups, and other forums to figure out what's going to change and how we'll need to adapt.

Keep our customers in the loop. Prepare slide decks and present billing updates to our Health Home customers, delivering the big-picture story and the details that matter. Send polished, friendly "billing update" emails on a regular beat. Answer billing questions from Health Homes and CMAs via email and phone.

Strengthen relationships. You'll be the primary liaison to a dozen key Medicaid Managed Care partners. Win their trust as an effective collaborator; resolve problems with individual and systemic claim denials; troubleshoot issues with clearinghouse intermediaries; and figure out how we'll support new initiatives like MCO incentive payments.

Help improve our software platform. Learn the ins and outs of how billing works in our system. Work with our product manager and engineering team to continually improve these features, based on the customer feedback you're receiving, your own experience as a user, and the understanding you'll bring about new billing requirements.
Key requirements
4+ years experience. Strong applicants may come from a variety of backgrounds, including within health care (administration, billing, finance, program management, program implementation) or outside (operations, research, finance, billing, customer success).

Proven stakeholder management. You'll excel at building relationships with all the organizations involved in the Health Homes world. Your style is friendly and collaborative, but you also know how to push for answers and escalate if necessary.

Excellent communication skills. We're looking for candidates who can craft strong client-facing emails, documentation, and presentation decks. You're a good listener. You can run a meeting convincingly.

You sweat the details. You love getting to the bottom of issues (e.g. a payment that doesn't reconcile, or a MAPP sync that mysteriously failed). You've successfully managed complex business processes and enjoy finding ways to improve them.

Tech savvy. You know a lot about Excel (e.g. Pivot Tables), and you can pick up new software skills quickly. We don't expect you to know SQL already, but you'd welcome the opportunity to learn.

A desire to improve health outcomes, with a focus on equity and social justice. We're building tools used by safety-net organizations that are fighting health disparities, and are looking for candidates who find this focus compelling.

Be nice, and value collaboration. We think feelings matter a lot. We're looking for people who are easy to work with and whom others always want on their team.
Working at Relevant
Join a small team of people (currently, there are 24 of us) who love what we do and continually strive to delight our customers.

Help us build a company culture that's friendly, respectful, and encourages continual learning.

Competitive salary, excellent benefits (we pay 100% of employee healthcare premiums), 401(k) with employer contribution, generous vacation policy, and a general emphasis on happiness and sanity.
When we're not experiencing a pandemic, our office space in downtown Manhattan is provided by WeWork, with the attendant nice amenities: social spaces, lots of natural light, reasonably good coffee and espresso. Here's the common area: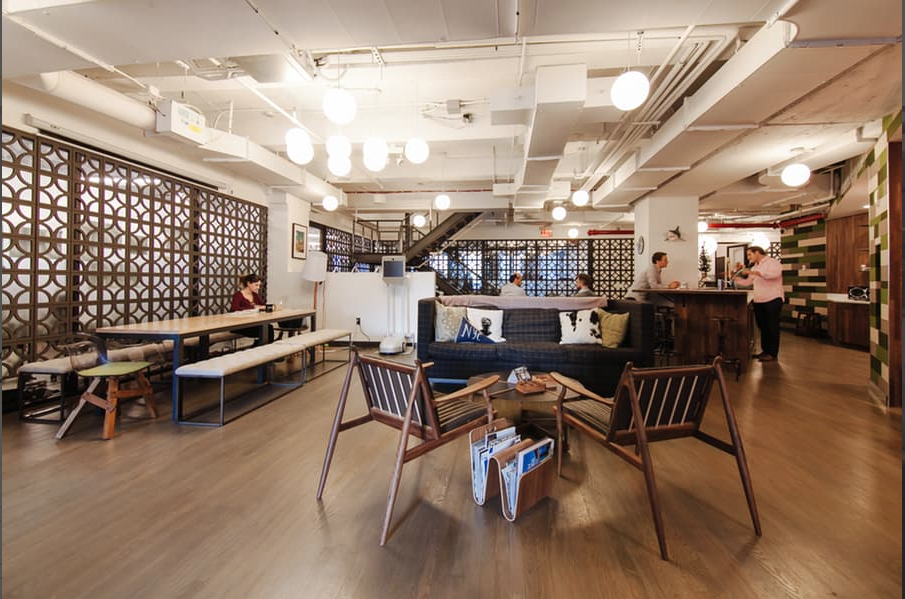 How to Apply
Send an email to [email protected] with the subject line "Program Manager, Health Homes Billing." When responding, attach a resume (PDF is preferred) and include a note in the body of your email explaining your interest in the position. Please include the phrase "gorgeous chaotic window," so that we know you read this.
Relevant is an equal opportunity employer. Applicants who identify with groups that are under-represented in the technology industry are strongly encouraged to apply.