Program Manager, Health Homes
New York, NY / Full-time
Seniority level: mid/senior
About Relevant
Relevant builds tools to support the work of community health providers. Our analytics platform is used by dozens of community health centers around the country, including several which have recently won awards for innovative use of technology. Our care management platform is the leading software solution within New York State's Medicaid Health Homes program.
About Health Homes
Health Homes is a major initiative to intervene with high-risk Medicaid patients. The program was launched in 2010, as part of the Affordable Care Act, and spends approximately $500 million per year in New York State.
Health Home patients may have multiple chronic conditions, substance use challenges, or serious mental illness; they might be homeless or incarcerated. The goal is to improve health outcomes while also reducing total system costs, with a special focus on preventing unnecessary hospitalizations.
Dozens of organizations, from hospitals like Mount Sinai to community-based organizations like Housing Works and The Alliance, use our care management platform to collaborate on patient care and track progress for Health Home patients.
The role
We're looking for a Program Manager to manage our relationship with some of our most important Health Home customers, helping them improve the lives of low-income patients with complex conditions.
Main Responsibilities
Deliver for our Health Homes. You'll be the primary point of contact at Relevant for Health Home customers. This means running regular meetings with Health Home leadership teams, going on-site to meet with their staff, providing written updates, soliciting feedback, and problem-solving. Earn the trust of Health Homes as someone who gets it, and gets stuff done.

Tackle big and small projects. Undertake a variety of projects to support the success of our Health Homes. This might involve creating custom reports, analyzing data, writing documentation, or finding solutions to new workflow challenges. We might ask you to figure out why MAPP is behaving weirdly for pended segments, or how we can better support the documentation of HCBS services.

Become a Health Homes program expert. We'll look to you to understand Health Homes from many perspectives: from the care manager and the client on the ground; to the lead Health Home's staff; to the policy and guidance promulgated by NYSDOH. Understand the intersection of our platform features, Health Home customer needs, and policy requirements.

Represent Relevant. You'll be one of the main voices of Relevant on state-wide calls and external committees and workgroups. Digest information, ask smart questions, share Relevant's perspective, and bring news of changing program and policy requirements back to the team.

Help improve our software platform. You'll know just about everything there is to know about our software: how it works, how it's being used, what it does well, what needs improvement. Working with our product and engineering team, use your understanding of customer needs to advocate for changes that will make the biggest impact.
Preferred experience
4+ years relevant work experience. Strong applicants may come from a variety of backgrounds, including care management, health care administration, program implementation, or customer success at a modern B2B technology company. Previous experience in healthcare tech specifically is a plus.
What we're looking for
Effective stakeholder management. You're a relationship guru who excels at building consensus. Your style is friendly and collaborative, but you also know how to push for answers and escalate when necessary. You're a good listener. You can run meetings convincingly.

Superior communication skills. We're looking for candidates who can craft strong client-facing emails, documentation, and presentation decks, as well as explain complex issues of policy and software functionality to a range of audiences.

Tech savvy. You know a lot about Excel (e.g. Pivot Tables), and you can pick up new software skills quickly. We don't expect you to know SQL, but you'd welcome the opportunity to learn.

Creative problem solving. You've demonstrated success solving tricky customer problems. You're good at finding creative solutions, pulling in support from others as needed, and keeping stakeholders updated along the way.

A desire to improve health outcomes, with a focus on equity and social justice. We're building tools used by safety-net organizations that are fighting health disparities, and are looking for candidates who find this focus compelling.

Be nice, and value collaboration. We think feelings matter a lot. We're looking for people who are easy to work with and whom others always want on their team.
Compensation
The base salary range for this position is $80-95K/year. This is negotiable and depending on experience. Significant equity in the form of options, company 401(k) contribution, and other benefits are in addition.
Working at Relevant
Join a small team of people (currently, there are 16 of us) who love what we do and continually strive to delight our customers.

Help us build a company culture that's friendly, respectful, and encourages continual learning.

Competitive salary, excellent benefits (we pay 100% of employee healthcare premiums), 401(k) with employer contribution, generous vacation policy, and a general emphasis on happiness and sanity.
When we're not experiencing a pandemic, our office space in downtown Manhattan is provided by WeWork, with the attendant nice amenities: social spaces, lots of natural light, reasonably good coffee and espresso. Here's the common area: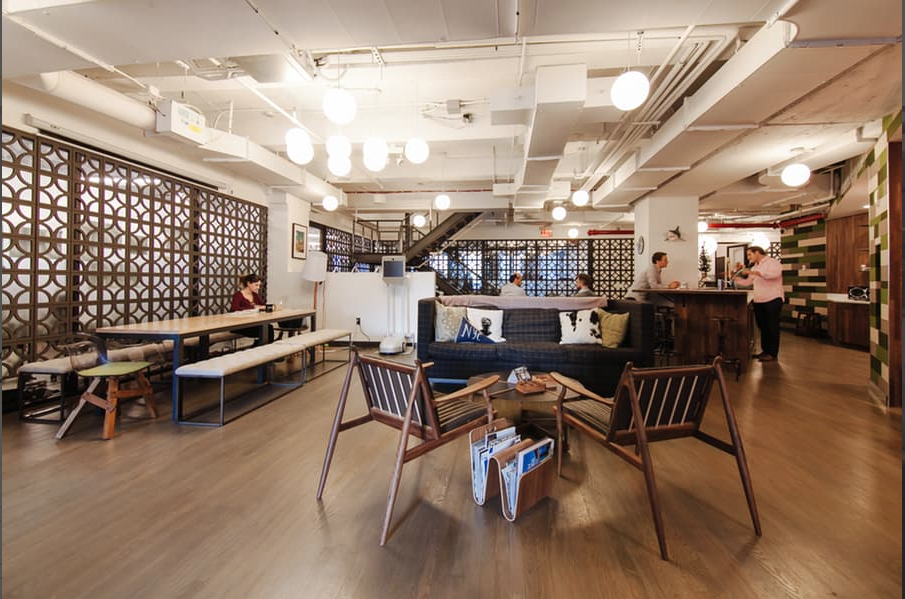 How to Apply
Send an email to [email protected] with the subject line "Program Manager, Health Homes." When responding, attach a resume in PDF format and include a note in the body of your email explaining your interest in the position. Please include the phrase "toucan lattice" somewhere in your note.
Relevant is an equal opportunity employer. Applicants who identify with groups that are under-represented in the technology industry are strongly encouraged to apply.