VP, Operations and Strategy
New York, NY / Full-time
About Relevant
Why can't safety-net providers have great tech? That's our mission at Relevant: bringing smart, friendly, innovative software and services to community health providers. We're small, bootstrapped, and profitable. We've been around since 2015. We're growing at an intentionally sane pace, not a rocketship pace. We care about feelings. We try not to break things.
We focus on work that will improve patient outcomes at the individual and population level. Our analytics platform is used by community health centers around the country, including several which have recently won awards for innovative use of technology. Our care management platform is the leading software solution within New York State's Medicaid Health Homes program.
The role
We're looking for a super-smart, moderately* fun human with good judgment and health tech experience to join us as VP, Operations and Strategy.
Responsibilities
Operational leadership. Make sure everyone at Relevant understands the problems we're trying to solve and why they matter. Help us develop the right goals, the right metrics (not too many!), the right meetings and communication flows, and the right culture to support a low-stress, highly effective organization.

Business development and strategy. Become an expert in our customers, markets, and competitors. Help shape the vision for our offerings, from product features and market position to customer profiles and revenue models. Explore adjacent market opportunities and strategic partnerships.

Service delivery. Work with our services team to ensure customers are getting ROI and significant delight from Relevant, starting with the first sales call and continuing over years-long relationships. Develop qualitative and quantitative metrics to track same. Over time, develop and test new service offerings.

People management. Manage a team of direct reports, making sure everyone has the support they need and opportunities for continued development. Help your reports develop as managers themselves. Periodically revisit our org chart structure. Help us recruit and hire great people.
Preferred experience
We're looking for 10+ years of relevant work experience, with some portion covering each of the following bullets:
Leadership. You've led a business unit at a large organization or worked as a co-founder, COO, or in a similar leadership role somewhere smaller.

Healthcare. You have experience in the world of Medicaid and other public-sector U.S. healthcare programs.

Technology. You've worked with first-rate product, engineering, and CX teams, ideally at a modern B2B technology company.
What we're looking for
General smarts. You get to the bottom of issues—through reading, research, analysis, talking to people, following leads—and come back with key insights. You bring clarity of thought to whatever you're working on. You're an excellent writer.

Gets stuff done. You excel at getting stuff done: forcing trade-offs, navigating around obstacles, overcoming inertia. You run great meetings, and more generally design organizational processes that are both efficient and human.

Nice; inspiring. You're an excellent listener. You're deeply committed to the well-being and development of coworkers. People want to work with you and want to earn your respect. You have a track record of hiring and retaining great talent.

High standards. You can't help but care about the details: email text, website copy, where the button goes. You're judicious about when and how to intervene, but you'll find ways to push on quality across the org.

A desire to improve healthcare, with a focus on equity and social justice. We're not the kind of company chasing hyper-growth. We're building tools used by safety-net organizations that are fighting health disparities, and are looking for candidates who find this focus compelling.
Compensation
The base salary range for this position is $150-185K/year. This is negotiable and depending on experience. Significant equity in the form of options, company 401(k) contribution, and other benefits are in addition.
Working at Relevant
Join a small team of people (currently, there are 27 of us) who love what we do and continually strive to delight our customers.

Help us build a company culture that's friendly, respectful, and encourages continual learning.

Competitive salary, excellent benefits (we pay 100% of employee healthcare premiums), 401(k) with employer contribution, generous vacation policy, and a general emphasis on happiness and sanity.
When we're not experiencing a pandemic, our office space in downtown Manhattan is provided by WeWork, with the attendant nice amenities: social spaces, lots of natural light, reasonably good coffee and espresso. Here's the common area: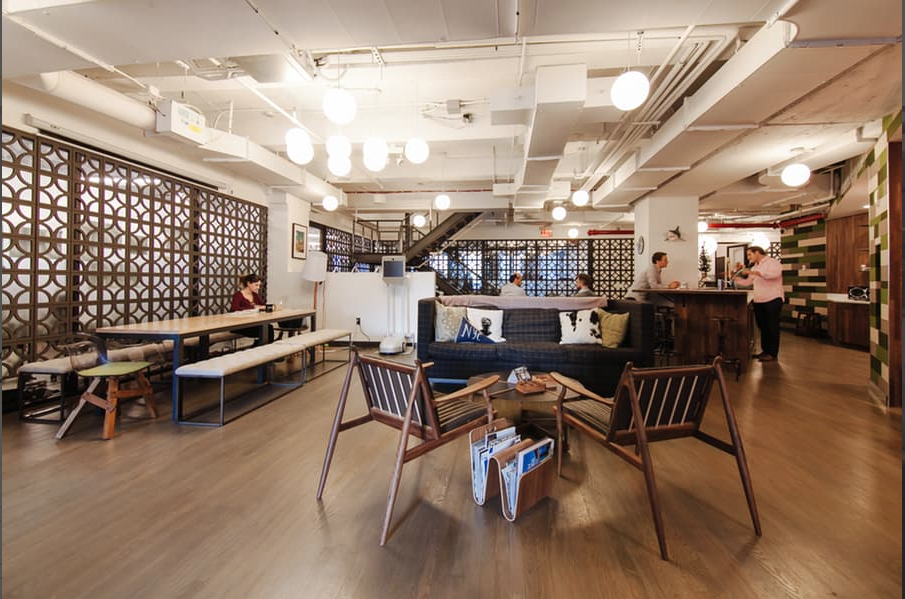 How to Apply
Send an email to [email protected] with the subject line "VP, Operations and Strategy." When responding, include a resume in PDF format and a note in the body of your email explaining your interest in the position. Please include the phrase "tiny farro parachute" somewhere in your note. Applicants who identify with groups that are under-represented in the technology industry are strongly encouraged to apply.
—
* Candidates bringing "moderate-plus" amounts of fun will also be considered.